Film: Love Hostel
Principal cast: Bobby Deol, Vikrant Massey, Sanya Malhotra, Aditi Vasudev, Raj Arun, Swaroopa Ghosh
Director: Shanker Raman
Running time: 1 hr 40 mins
Where to watch: ZEE5
When I mentioned to a friend that I was watching a film titled Love Hostel, she was initially nonplussed because she assumed that it was yet another atrocious piece of 'reality television' in which "lovers" would be lodged in a tacky mansion and we would be subjected to profuse helpings of mawkish hokum. When one does arrive at the film's titular location, which is informally branded as such by its uniform-clad police caretaker, one finds that most of the hokum is fortunately spared, but the lovers are not. In a way, Love Hostel reminds one of a particularly blood-soaked episode of a 'true crime' anthology series; only a bit lengthier, and a bit more unvarnished.
For filmmaker Shanker Raman, the film represents a seamless progression from his previous directorial venture Gurgaon (2017). Gurgaon was a brusque and blunt portrayal of an industrial wilderness where land comes before life and gnarly patriarchs shape/re-shape their notions of family in accordance with the profit motive; for me, the plot involving the entitled son of a ruthless tycoon scheming to kidnap his sister was an impactful treatment of a realm steeped in its ferocious (necro)politics.
In Love Hostel, the action is more precipitously paced and the plot is comparatively simplistic; it is eventually poised as an unbound cat-and-mouse chase with minor tangential sub-plots, where each passing scenario that the characters find themselves in becomes more fraught with danger than the last. This attempt by the film, to erect a sustained escalation of events where the conservation of immediacy is willed to somehow withstand all detrition, slowly becomes its undoing.
The plot unravels in locales situated in regions to the northwest of Gurgaon, in the rustic hinterland of Haryana. Ahmed Shaukeen (Massey), commonly known as Ashu, has eloped with his lover Jyoti Dilawar (Malhotra). Aware that Jyoti's family will punish them severely for their relationship, they get hastily married in a court which orders them to be boarded at a 'safe home' (the eponymous location) dedicated for married couples without familial support. In the meantime, they earn the murderous wrath of Jyoti's grandmother and influential local politician Kamala Dilawar (Ghosh), who asks for remorseless mercenary Viraj Singh Dagar (Deol) to be informed of their whereabouts.
Also read: Licorice Pizza review: A sweet slice of measured nostalgia
Dagar is a revered mythical bogeyman in the region, who has a history of hunting absconding lovers down (and anyone else who might come in the way) to serve his own moral mission of ridding society of the filth of rebellious and "illegitimate" relationships. The rest of the film concerns the actions of the two lovers to outpace Dagar and other machineries of the dark underbelly of governmental protection.
This "protection", that Jyoti and Ashu are ostensibly judicially granted, can be seen as a borderline Foucaldian occurrence. In his 1976 book The Will to Knowledge, philosopher Michel Foucault posited the notion of biopower as an embedded mechanism within institutions that ensures the protection of favourable populations; this mechanism of protection concurrently manifests as the subjugation of unfavourable or non-normative populations. For the "honourable" Dilawar family, and the administration by extension, the ascribed honour of their favourable property Jyoti becomes tainted by her merger into the unfavourable sphere of a Muslim; as such, both become an indivisible non-normative unit that must be eliminated as a whole.
Compared to the grammar of his earlier film, which was more suggestive of the collusion of its elements with the power elite of political institutions, Raman employs a sharply bolder tack with regard to overtly critical commentaries on administrative forces in Love Hostel. These forces are simultaneously responsible for sanctioning the construction of aforementioned 'safe homes' for electoral mileage amongst the younger electorate, and for massacring the same youth, should they exercise choice beyond tradition. This hypocrisy is converted into a dialectical religion of ascendancy, in which even the disenfranchised helplessly favour the favourable by default.
This commentary also doubles as a scathing attack on the incumbent government and the contemporary politics of 'love jihad'. In one scene, the police caretaker of the safe home bitingly asks Ashu whether he has given Jyoti an ultimatum to convert to Islam. This idea of forced religious conversion, as an act of stripping one of the power to be a vessel of one's communal pride, being the sole possible purpose of an inter-religious marriage clandestinely informs much of the anxiety of the killers of the film. In another scene, battle-worn Deputy Commissioner of Police Sushil Rathi (Arun) bemoans the hapless conditions of both institutionally vulnerable religious minorities under this government and those within institutions seemingly seeking to help by enquiring of a fellow officer, "Vardi utaarke sarkaar badalne ka intezaar karoon kya?" ("Should I keep my uniform aside and simply wait for this government to be ousted?") With this dispensation at the helm, the emboldened positions of those like Dagar have closed even the fabricated gap between self-righteous militancy and law enforcement.
Also read: Gangubai Kathiawadi review: Engaging the viewer, but disengaged from its messaging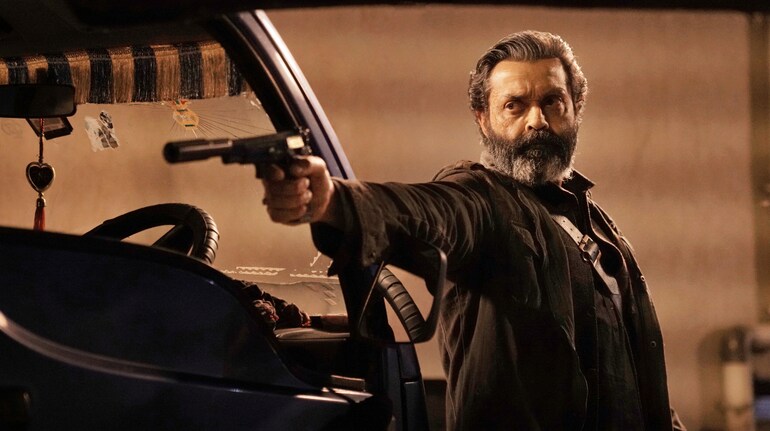 While the political undertones are impactfully handled, the characters rooted in this framework required more space to develop. Dagar's character is a prime example. Coming across as a potentially explosive cross between John Wick's unassailability and Anton Chigurh's (from No Country for Old Men) calculated viciousness, Dagar is mostly reduced to the extent of blood he can spill in his crusade to "cleanse" society. Deol does turn in a spectacular and cold-blooded performance, unhesitatingly replacing coherent speech for the heavily accented growls of his character; in the critic's defence, a lot of his work is done for him through the hair and make-up departments. However, that contributes to no more than a superficially intimidating facade which conceals a half-baked raison d'être; the film only shoddily divulges that in the form of a ceremonial twist in the final act.
To be close to remotely comprehending his motivations, a far longer duration of time needed to have been allotted to his story. By not providing the character with that time, the script, by Raman, Mehak Jamal, and Yogi Singha, expresses its indecisive inability to either make the character frightening simply by virtue of an infinite capacity for murder (a serial killer, in effect), or make him a compelling embodiment of conflict whose tale might be heeded in spite of vehement disagreements.
Through the prevalence of this myth of Dagar, which entails everybody in the region, from a veterinary doctor to an attendant at a petrol pump, shuddering at the mere mention of his name, the film turns honour killing into a subject of what sociologist Émile Durkheim called collective effervescence; Durkheim advanced this concept to claim that on rare occasions, a community may be able to synchronise the symbolic communication and the intellectual participation of all its members, to escape the profanity of daily life and elevate the totality of the group to a 'sacred' attainment of harmony. Therefore, whoever disregards or disavows honour killing, as a totem of their society, is instantly ostracised as an outlier or instantly neutralised.
The Muslim, of course, is not even in consideration for membership to the in-group within which honour is distributed. While Massey delivers a characteristically superlative performance, Ashu is another character whose psyche warranted further exploration. This is a character who has been thrust into the responsibility of tending to his ailing mother, who suffers from some form of dementia, because his father is serving a sentence in prison for a case in which he was falsely implicated. In the course of seeking his father's release, Ashu is reluctantly involved in the smuggling of contraband meat.
Also read: Feed your 90s nostalgia with Abar Bochhor Kuri Pore
The dynamic between Jyoti and Ashu, with reference to its relations of communicative power in social hierarchies, displays flashes of observant insight; while Jyoti unconsciously channels her habit of privilege to feel at ease with being outspoken and assertive amidst hostile topographies of power, Ashu timorously fumbles in the same terrain. He is acquiescent and peevish in front of police officers and wealthy gangsters, for which he is glibly reprimanded by Jyoti. Jyoti must also make painstaking efforts to keep her connate dauntlessness alive as her resilience is frequently challenged by revelations of the degree of cruelty that she witnesses outside the comforts of security, and this descent is arrestingly captured by Malhotra.
The rest of the performances are also sharp and unfaltering. So is Vivek Shah's cinematography, which particularly shines in scenes where Dagar is involved. As mentioned before, the film's readiness to defend its political positions is also commendable, but the writing makes the film encumbered by its own intentions. The initial shock of the killings is bludgeoned as the bodies keep piling up, and the viewer is soon rendered numb to the mildly aestheticised bloodshed. The film becomes predictable in its insistence on magnifying the scope of Dagar's killing spree, which is when one's curiosity in the narrative flatlines. While its condensed duration and swift action are positioned to be its strengths, they become drawbacks over the course of the film; character development is sacrificed in favour of a lacklustre fast-paced mayhem.
In the end, Love Hostel could be watched if one seeks to see a hypothetical portrait of the film that one might get if Sriram Raghavan directed an impatient No Country for Old Men wannabe or a bleaker and bloodier version of NH10 (2015) without consideration for rigorous censorship or his astute witty finesse. The film's murderous rampage offers mercy to none, not even itself.