Film: Radhe Shyam
Principal cast: Prabhas, Pooja Hegde, Bhagyashree, Sachin Khedekar, Sathyaraj, Kunaal Roy Kapur, Jayaram, Jagapathi Babu
Director: Radha Krishna Kumar
Running time: 2 hrs 18 mins (Telugu), 2 hrs 24 mins (Hindi)
Where to watch: In theatres
In an international cinematic space, the incorporation of films that seek to script an impact beyond the borders of "imagined communities" (as political scientist Benedict Anderson termed nations) has gradually occurred with the growing global reception of films such as Slumdog Millionaire (2008), Avatar (2009), the Marvel Cinematic Universe, Parasite (2019), the Daniel Craig-led James Bond films, etc. In lieu of this burgeoning interest in clandestinely shifting towards post-nationalism, scholar Sheldon Lu referred to our period as "an era of transnational postmodern cultural production", where evolving interlinkages of communication technologies and digital media compel filmmakers to consciously make films that appeal to unfamiliar audiences and blur the lines of cultural accessibility.
In India, producers and makers were confronted with a slightly quirkier problem; they recognised the strengthening of a consumerist nationalism that comfortably partnered with the country's political establishment to yield one chest-thumping extravaganza after another, but also foresaw the profits that could be reaped if an overt acknowledgement of regional or sub-national conceptions of said nationalism could be avoided as well. They did not want to ruminate on transnational world-makings in the process of monetising this balance; they needed a shortcut.
Notwithstanding similar but comparatively underwhelming attempts that have been made in the arena before, the Baahubali duology (2015-17) proved to be a trailblazer for the socio-economic construction of an incipient market: the "pan-Indian" film. It was the first time since the Kannada film Mahishasura Mardini (1959) that an Indian film was simultaneously released in more than four languages, and the gamble paid off spectacularly. The term itself has been vehemently contested, but the smashing box-office returns of subsequent films like 2.0 (2018), K.G.F: Chapter 1 (2018), and Pushpa: The Rise (2022) seemingly cement producer-director Karan Johar's view of the "pan-India" market as one that "we cannot diminish or dilute".
At this point, you may certainly be wondering if this is about to transform into a sermon on transnational cinema or the political economy of Indian cinema. It is not. The point is to draw attention to how producers, in a bid to evade the financial trappings of reflecting the socio-cultural contextualities rooted in their films, have attempted to convert a prevailing Indian national conundrum into a blindly imitable lucrative business model. I am not fond of any of the films mentioned in this regard, but the list of crashing disappointments, purely in terms of unambiguous neoliberal intoxications available at ticket counters, are increasing proportionately alongside the glowing money-makers; the formula has already revealed its natural fallibility in the case of films like Sye Raa Narasimha Reddy (2019), Marakkar: Lion of the Arabian Sea (2021), and Valimai (2022).
After his last venture Saaho (2019), which was another "pan-India" wannabe that underperformed compared to its inflated budget, "megastar" Prabhas and his towering blandness participate in Radhe Shyam. An insufferable addition to that pile of glorified garbage, the film is as overblown and abhorrent as its reported budget of Rs 350 crore. The film, which is erroneously and obviously enamoured with the idea of being an epic saga of sweeping romance, grossly underestimates its potential as a grievous headache. I only wish there was more hilarity and less physical repulsion in its dreadfulness; that might have unintentionally given me less to upbraid.
Also read: The Batman review: A new dawn for the Dark Knight
The film begins in 1978, in a simulation of the visual layout of the world as it would have appeared to a rainbow-coloured sentient candy floss after it read the works of C.S. Lewis. Vikramaditya (Prabhas), a renowned palmist who is ludicrously dubbed the "Einstein of palmistry" and the "Nostradamus of India" for never having made an inaccurate prediction, is a temporary resident of Italy and a permanent darling of destiny who left India after having told Indira Gandhi that she would declare a state of Emergency in the country. I am not joking.
He can also never love another, for his hand does not contain a "love-line". While in candy-flavoured Italy, he begins a "flirtationship" (again, not joking) with Prerana (Hegde), a doctor who is badgered into accepting him through his indomitable perseverance and divine foresight. As they boldly begin to challenge their destiny by intertwining themselves with the threads of an impossible love, love and destiny somehow become opposing belligerents in an existential war.
At the launch of the film's trailer, director Radha Krishna Kumar claimed that it took him eighteen years to write this script. Personally, I might have found it unfathomable to think of a rudderless twit who has spent eighteen years developing a storyline that is as execrable and excremental as this. Alas, Kumar comes along and conclusively proves that I can never be a Vikramaditya-inspired fortune-telling hack. The hackneyed script, where the storyline is as insignificant as its protagonist's "love-line", might have been marginally tweaked to suit a particularly ostentatious music video commissioned by the likes of Katy Perry or Nicki Minaj, but it unfortunately did not go down that route. At best, this is an elongated and excruciating parody of a passé corporate music video.
In the making of that parody, the cinematography by Manoj Paramahamsa is stuffed to the brim with sanitised other-worldly locales that are dizzying and garish in equal measure. The frames show no regard for embracing a more balanced colour palette or even adjusting the contrast of the lens in accordance with the time of day. The lighting is also mostly skewed. The tawdry visual effects and Raveendar's production design greatly assist the film in becoming choked by its own agonising artifice; apart from the tacky sets, not only can one clearly identify each distracting computer-generated visual input in the film, but one can also find shots where the visual effects were not fully rendered during post-production.
The editing of veteran Telugu editor Kotagiri Venkateswara Rao and the Hindi version's soundtrack by Mithoon, Amaal Mallik, and Manan Bhardwaj do not help the film's case either. Amidst abrupt cuts between shots and shoddy manoeuvres of each shot's internal/external rhythms for the sake of singularly lionising the "hero", the transitions into musical sequences are also awkwardly performed. The soundtrack album is derivative enough for me to have forgotten each song of the film already. The background score by S. Thaman is sometimes bearable, but quickly becomes overbearing and ultimately contributes to the overall loudness of the film.
The debilitating concern is that the makers may have been genuinely convinced of the prowess of its trophy Prabhas' tenacity to salvage the film in spite of any other deficiency it may have. Apart from each of the sources of migraines that I just mentioned, the irredeemable performance of Prabhas may be the worst offender of the lot. I cannot comment on whether this will be applicable to the Telugu version as well, but in the Hindi version, he makes one come frighteningly close to wishing that the deceased acting tenures of industry brats such as Jackky Bhagnani and Uday Chopra would be revived instead.
Also read: Love Hostel review: A potent premise that is castrated by botched fixations
The film is uncomfortably besotted with him, in a dynamic that can only be described as a tragically one-sided affair. While the character is supposed to be the embodiment of a near-omniscient enchanting irresistible flawlessness that oozes magnetic sexual charisma and carries an orotund voice to boot, Prabhas plays an exhausted and bloated bore with droopy eyes and hoarse speech. The intended suave savoir-faire of the character is murdered each time he opens his mouth to speak, and that excludes his horrid Hindi pronunciation, which we are not going to dwell on. He looks decidedly dispirited and disinterested, and the costume design for his character is evocative of a vintage advertisement for a Van Heusen winter catalogue. Then again, a model for the catalogue may have been a better performer.
Every other performance is similarly disappointing, almost without exception. Both Khedekar and Kapur are given animated buffoons to essay, and a stubbornly discriminatory tradition oversees the casting of 53-year-old Bhagyashree as 42-year-old Prabhas' mother. In most scenes, her character looks younger than her son. Hegde plays Prerana like the pliant doll that she needs to, without exerting much effort. There are flashes of an appeal and a radiance that could be turned into a pleasant act, but I suspect that the stereotypes that she has already succumbed to will hinder her from pushing herself in that direction.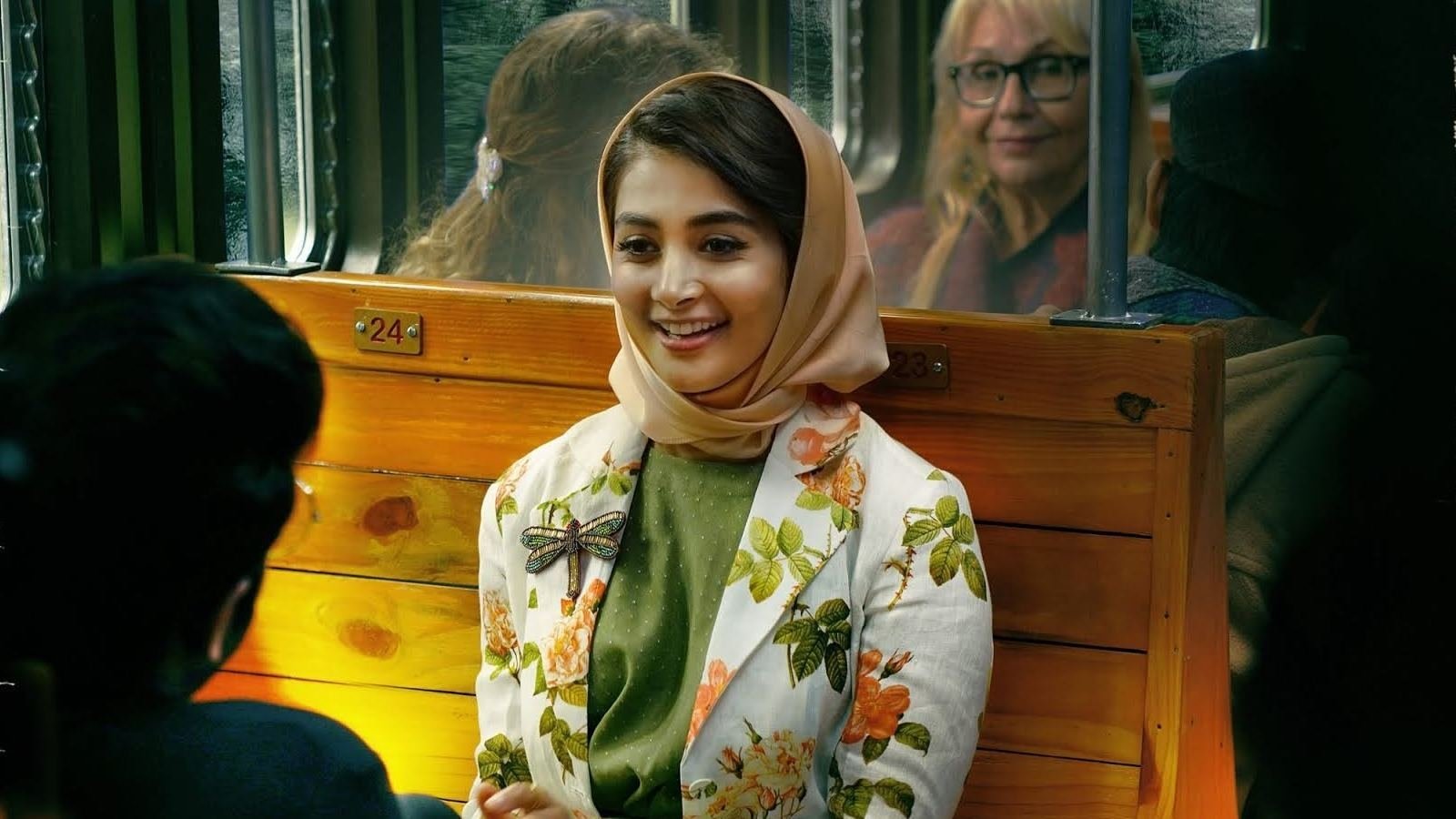 The struggle between Prerana and Vikramaditya in establishing the victor of the love-destiny conflict is also confounding because other than the "love-line" gibberish, no other pseudo-scientific elaboration is provided for the reasons behind a transcendental determinism being unable to accommodate their love. One might appreciate this for inverting a traditional notion of love representing the supreme fulfilment of pre-ordained harmony, and celebrating a love that is acquired through defeating determinism and embracing an existentialist doctrine of choice. This is where the point of the film (not to worry, there is none) becomes muddled; the film goes into raptures over persuading the audience of the infallibility of divine destiny, but becomes 'An Idiot's Guide to Overcoming Astrology' whenever it needs the rebellious romanticism.
In the context of India's prevailing discourse on the relationship between religion and the sciences, this half-assed glorification of astrology poses a tangible threat. In an era where scheming fraudsters such as Baba Ramdev receive governmental assistance after having rebuked doctors for stressing the importance of vaccination and mocked supposed post-vaccination deaths, the visual of a medical practitioner (figuratively) genuflecting in front of Vikramaditya and later proclaiming that Vikramaditya can never err is certainly concerning.
One of the other extended assertions of the film is that palmistry is "99% science". This is initially brought forth through a book, by Vikramaditya's mentor and saint Paramahamsa (Sathyaraj), that is crudely titled "Palmistry 99% Science" (this might be an indicative of Kumar never having read a book); with the book as his weapon, he elucidates upon his hypothesis and proceeds to provide one of the most ingenious and outlandish explanations for the overaccumulation of capital by a concentrated mass of the wealthiest capitalists. He says that palmistry is inaccurate by a factor of one percent because of a demographic reason rather than a philosophical one; this one percent of the population refuses to budge in the face of determined destiny, and forges their own destiny through heterodox risks. "Isi liye woh duniya par raaj karte hain" ("This is why they rule the world"), says Paramahamsa.
Also read: Licorice Pizza review: A sweet slice of measured nostalgia
I propose that the makers of the film be hastily produced in a people's court to present their case for spending Rs 350 crore on this film, before they are hopefully thrashed. Even if our Prime Minister's Office never officially releases the audit report or the breakdown of expenditures within the infamous PM CARES fund, the justification for indiscriminately spending this amount on a film that is clamouring for twenty other films by struggling filmmakers to have been made in its place needs pertinent investigation.
I think I may have already done enough of a disservice by ennobling the film through this lengthy review. If one still does decide to watch it in a theatre, I would recommend carrying a few bricks and slippers; the parlous journey that the viewer would have to undertake certainly demands a few shots towards the screen every now and then. Meanwhile, let me confidently utilise my newfound astrological influences to declare that Radhe Shyam will be promptly consigned to the dumpster of cinematic history.