Film: RRR
Principal cast: N.T. Rama Rao Jr., Ram Charan, Olivia Morris, Alia Bhatt, Ray Stevenson, Alison Doody, Samuthirakani, Ajay Devgn, Shriya Saran
Director: S.S. Rajamouli
Running time: 3 hrs 02 mins
Where to watch: In theatres
An outwardly placid humility notwithstanding, filmmaker S.S. Rajamouli is certainly keen on exploring the commercial sway he commands over the (increasingly more) involute equations of Indian cinema. He has witnessed monumental growth as one of the few unashamedly market-savvy Indian filmmakers who entwine, across an expansive cinematic canvas, an intimate acknowledgement of the country's indigenous cultural heritages with a Brobdingnagian intent that does not tempt the expunction of a suspension of disbelief. With the exhaustive publicised effort that he injects into each film, most notably during the production of and after Eega (2012), one is also gently but consistently reminded that this is a singularly committed filmmaker who needs each new film of his to surpass the magnificence of the previous and to consecrate itself as a celebrated magnum opus.
Since Baahubali: The Conclusion (2017), his last venture, the temperament of cinema across India has abruptly become more capricious; there has been a simultaneous investment in being emphatic about films that can cater to the preponderant narratives of India's political establishment and developing structurally universalised films that can be promoted in expanded international markets like China. Alongside these broad inclinations, zero-cost downloading websites and subscription-based streaming services have hijacked an unprecedented segment of the audience; this dominance was naturally bolstered by the pandemic. At this juncture, Rajamouli and his team spent roughly three-and-a-half years and an inordinate 550 crore Rupees to assiduously craft an epic "pan-India" period film in Telugu, banking on the finished film being evental enough to lure hordes of people throughout the country into theatres and registering a sizeable margin of profit along the way.
I am not clairvoyant in the least, but RRR does seem poised to welcome the thumping resurgence of a convalescent theatrical fervour. While it remains submerged in the temporalities of its historical background, the film does not claim to be an unalloyed documentation of anti-colonial revolutionaries or a piece of trenchant socio-historical commentary. When it endeavours, as part of explicating its setting, to detail the hardscrabble lives of workers and residents under colonial occupation, it paints a rushed picture devoid of complexity in cruelty.
Also read: The Kashmir Files review: Effectively dangerous, dangerously effective
The plot of the film is an attempt to dramatise a fascinating hypotheticality: what if fabled revolutionaries Alluri Sitarama Raju and Komaram Bheem, contemporaries separated by geography but united by a firm adherence to armed revolution, befriended each other and jointly orchestrated a rebellion against the Empire? In pursuit of vitalising the potential of this intriguing premise and making it capacious enough to accommodate their titanic ambitions, Rajamouli and co-writer K.V. Vijayendra Prasad make gargantuan alterations to history, toeing the border of making it inconsequential altogether.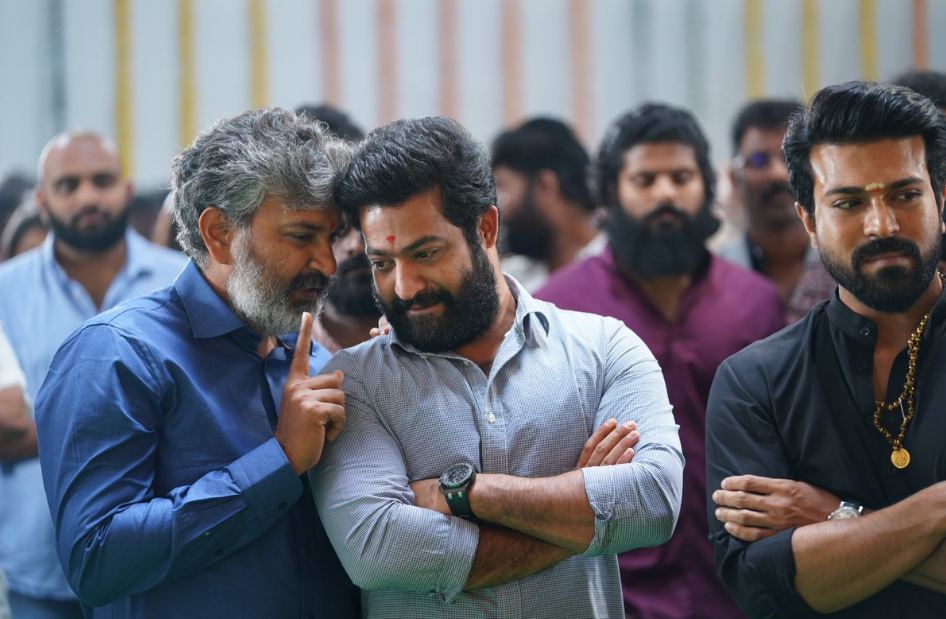 Yet, a brief overview of the dynamics of British imperialism in Andhra Pradesh and Telangana is indispensable for those who wish to critically comprehend the sustained deification of Raju and Bheem as legends of folk mythology. In 1882, the colonial government enacted the Madras Forest Act, which placed the "protection and management" of all forested regions within the Madras Presidency under the purview of the British; as one might expect, the law was wielded to cripple the subsistence economy of the tribal groups residing in the forests and to restrict their mobility, for the purpose of granting the government direct control over the forest's resources. The indigenous inhabitants of the land were coerced into working as unpaid labourers for the construction of colonial infrastructure. Against this backdrop in 1922, Raju launched an offensive against the British in the Rampa region of the Godavari district; to amass non-traditional weaponry by conducting raids on police stations and to initiate guerrilla warfare against officials in the hills, Raju mobilised and led an unlikely coalition of exploited tribal people, landless farmers in neighbouring areas, and 'muttadars' (exploitative hills-based tax collectors who worked on behalf of rulers in the plains and indiscriminately used discretionary powers of their own; these people were reduced to being puppets of the government without any additional authority or commission).
Meanwhile, more than six hundred kilometres away, the landlords, the capitalists, and the forest police, all operatives for the Nizam of Hyderabad, colluded in oppressing the people of the Gond tribe in Hyderabad State through the levying of arbitrary taxes and extortion. When the expansion of mining was sanctioned on Gondi land, landlords began extracting increased taxes from 'podu' farming (a traditional system of shifting cultivation based mostly on the slash-and-burn method); most tribal families did not have any money left to give, and this non-compliance would lead to either the accumulation of credit over an indefinite period of time (which Gonds would have to keep repaying through a life of servitude and unpaid labour), or blatant amputations/killings. Consequently, Gond families spearheaded involuntary migrations from their native villages. Bheem was one such Gond, whose father was murdered by the Nizam's police for protesting against their displacement. He dedicated the rest of his life to struggling for the regional and agricultural autonomy of the Adivasi (indigenous/tribal) population, organising them with the clandestine support of the Communist Party of India and leading a guerrilla army of tribal representatives from different regions of the state. They waged their low-intensity guerrilla campaign for the better portion of a decade.
Also read: Radhe Shyam review: A poor parody of an outdated corporate music video
The intention of describing the circumstances that shaped the resistances of the two revolutionaries is not to inveigle the reader into performing the role of an aficionado of history (even though that would admittedly be swell); it is to demonstrate that a revisionistic story revolving around Raju and Bheem could have still been enthralling without the distractingly reductive distortions. In the film, presumably for an enhanced intensification of his character arc, we are introduced to Raju (Charan) as an upright and uptight colonial police officer with an undisclosed agenda; according to various accounts, Raju was a charismatic and frequently self-prophetic spiritual populist who embraced a life of asceticism by the age of eighteen. His father Venkata Rama Raju was a staunchly anti-colonial professional photographer; the character based on him, played by Devgn in a brief appearance, is turned into a renegade colonial officer who issues to his son edicts of armed warfare and has converted his entire village into a veritable revolutionary base area.
Similarly, the character of Bheem (Rama Rao) is given motivations that are decidedly narrower in scope than those of his historical counterpart; he is initially shown to be motivated in his crusade against the British exclusively by virtue of his mission to rescue a Gondi child who was forcibly separated from the tribe by the villainous Lady Buxton (Doody). Bheem's familial backstory is not alluded to either, robbing the character of crucial fodder for character development.
As a result, the writing stumbles at times. Raju is given a comparatively compelling and layered characterisation, but other characters suffer from profiles and trajectories that are not adequately etched out. At certain points in the film, Rajamouli also seems to have prostrated before the lords of spectacle at the expense of his flair for concocting disarmingly humourous and ingenious scenarios that distinctly accompany the beats of his characters. A charming scene in which Raju, who is smoothly conversant in English, acts as the translator for a brief conversation between Bheem and his British romantic interest Jennifer (Morris) is succinctly illustrative of their characters and of the necessity of similar moments in Rajamouli's films. Since it has ample time to build itself as an edifice of high-octane action atop the ruins of rhythmic pauses, the film shifts from one laboriously designed crescendo to another. To his credit, however, Rajamouli never compromises with his assured grasp of balancing the film's breakneck flow; the screenplay never drops the pace, but it is careful not to induce a sense of monotony or fatigue in the viewer. Usually, the feeling is reminiscent of the pleasant exhaustion that one would feel after a session of lively and vigorous dancing.
If one can overlook its scattered discrepancies and lacunae, RRR can frequently be a predictably invigorating ride. In the introductory scene for Raju, the establishing shot showing us a remote police station surrounded by thousands of agitated protestors is an angular bird's-eye shot that feels like it is directly lifted from one of the Baahubali films. At the commands of his fair-skinned superior, Raju single-handedly charges through the swarm of people in a remarkable sequence that showcases supreme cinematographic and choreographic adeptness. The camera drowns in the incommodious frenzy of the scenario, following each constricted movement of Raju as he chases a specific protestor through the crowd.
The kinetic cinematography of K.K. Senthil Kumar, a staple in Rajamouli's films, is mostly marvellous here; there are drone shots, crane shots, and aerial tracking shots galore, but the camera is always cognisant of tighter locales on the ground as well. The texture of the cinematography, therefore, efficiently hopscotches from being nimble to being sweeping as the landscapes change. Slow-motion shots are overused in certain cases, where they disrupt the passage of scenes.
The editing of A. Sreekar Prasad is a bit jittery and restless at times, especially in the first half. Sabu Cyril's production design is indubitably superlative in terms of capturing the particularities of each set, but the artificiality of certain settings challenge the film's efforts at being an immersive sensation. The costume design by Rama Rajamouli fares better at simulating the conditions of the protagonists, preferring to use markedly mellow and consistent clothes; the design for each character abides by a template of their attributes, and the characters are thankfully not gaudily accoutred in every scene.
Also read: The Batman review: A new dawn for the Dark Knight
M.M. Keeravani's musical score also blends into the narrative with ease; as anticipated, he has composed a grandiose and rousing background score that unambiguously underlines Rajamouli's vision. No musical interjection arrives as an imposition in the film, with the minor exception of the song 'Raamam Raaghavam'. I say "minor" because the opening of the film's climactic action sequence would not be irreconcilably incompatible with a musical overture; this particular song, along with the symbolism that it is expected to augment, feel slightly forced. The picturisation of the otherwise forgettable song 'Naatu Naatu' ('Naacho Naacho' in Hindi), meanwhile, has Rama Rao and Charan outperforming haughty and genteel English folk in an informal dance competition by exhibiting some of the most skillful footwork that I have seen on screen in quite some time. In the music video for the buoyant track 'Etthara Jenda' ('Sholay' in Hindi), the performers pay tribute to a selection of crucial historical figures across the country, including largely unacknowledged revolutionaries such as Tanguturi Prakasam Pantulu and Kittur Chennamma. There are far too many omissions to list, but the song might aid in attracting the patriotic attention of a few.
The synergy and chemistry between Rama Rao and Charan yields a covetable interplay between the two that is extremely comfortable to behold. Charan is given the more complex character, and he seems to have strained himself as an actor in a few of his scenes. There is a stiffness to his stoicism that does not dissipate. Rama Rao, however, delivers a performance that is rather impressive; he seamlessly juggles between an earnest ebullience and a feral rage. Over the years, he has undeniably made noteworthy improvements in his acting. While Stevenson and Doody play unidimensionally generic and vile British oppressors, the performance of Morris as Jennifer has a soothing and warm core that prevents her from becoming a cardboard cutout. The other performers, including Bhatt and Devgn, are not required to expend much effort, and they harmlessly coast along whatever little material they have.
Komaram Bheem is believed to have coined the slogan, "Jal, Jangal, Zameen" (Water, Forest, Land); in our time, it is widely used by certain Maoist units and Adivasi movements as a cry for mobilisation against oppressive occupation and encroachment. Rajamouli gradually turns Bheem into a force of nature, which is what RRR also aspires to be. It does not completely succeed in that pursuit, and it fails to justify its flagrantly excessive budget. But, if nothing else, RRR is a timely reminder that the postcolonial indulgence of witnessing imperious imperialists being decimated by radical revolutionaries has not waned at all. For better or for worse, that indulgence becomes more lavish when it is packaged and delivered by S.S. Rajamouli himself. In the meantime, the battle for jal-jangal-zameen continues.