Film: The Kashmir Files
Principal cast: Mithun Chakraborty, Anupam Kher, Darshan Kumar, Pallavi Joshi, Chinmay Mandlekar, Prakash Belawadi, Puneet Issar, Atul Srivastava, Bhasha Sumbli, Mrinal Kulkarni
Director: Vivek Ranjan Agnihotri
Running time: 2 hrs 50 mins
Where to watch: In theatres
Filmmaker and producer Vidhu Vinod Chopra hails from a family of Kashmiri Pandits who accompanied fellow members of their community in being displaced under duress from the Valley at the peak of their persecution at the hands of separatist militants. When it was announced that Chopra was helming a film centred around the exodus of Kashmiri Pandits entitled Shikara (2020), the curiosities of many were naturally piqued; for many who were keen on witnessing the events spotlighted on screen, especially in the context of accentuating the motivations for a militaristic Hindu nationalism, the film was poised to produce a heart-wrenching personal narrative of displacement and undocumented migration. Instead, we received a somewhat unprejudiced attempt at placatory inter-religious dialogue that mostly amounted to a wishy-washy romance-tragedy under the garb of exposing the monstrosities suffered by the Pandits.
The film had invited hostile responses. In a video of a female member of the audience at one of its screenings with Chopra in attendance, she is seen howling at him for whitewashing the "truth" of her tragedy. To reinstate the glory of a more unadorned "truth", noted right-wing filmmaker Vivek Agnihotri announced (while Shikara was still in production) that he would surgically conduct "an honest investigation into one of the greatest human tragedies". In doing so, he harnesses the country's political zeitgeist to embolden a film that is unabashedly lopsided and surreptitiously selective.
Frankly, the entirety of The Kashmir Files is sullied by Agnihotri's discernibly distended saviour complex; as part of the painstaking research, he claims to have personally recorded the accounts of more than seven hundred victims of the exodus, but one can still identify the film as the more polished handiwork of the same individual who, in the process of popularising the label "urban naxal", promoted the unfalsifiable and unverifiable argument that nearly half of India's population is plagued by Maoist leanings.
Along with Saurabh M. Pandey, Agnihotri has penned a screenplay in which full-bodied theatrical dialogue-writing reigns and the multi-faceted dimensions of the history of Kashmiri Hindus are monolithically collated and categorically spoken for; in a brazen attempt at populist mobilisation along communal sentiments, Agnihotri seems to posit that the Pandits, as undifferentiable pawns of his machination, do not internally possess any conflicting or dissenting views regarding even their own histories. It is by virtue of the sheer unaccountability that Agnihotri presently avails owing to his proximity with the incumbent government that he has been able to impactfully contrive a space where the grief and loss among members of a community (who do grapple with hierarchies of class/caste/gender) are informed by an idealised homogenous emotional isomorphism, which aligns impeccably with his own agenda.
To unearth the eventual endeavour of the film, which shall become clear, political philosopher Ernesto Laclau's post-Gramscian theory of populism might be of some assistance. Laclau suggested that hegemony was the presupposed medium through which populism unfolds and expands, and that empty signifiers deferring signification towards universalities such as "truth" and "justice" are consistently reiterated to symbolically structure the hallowed self-legitimising sphere of a hegemony's operations. Here, Agnihotri patently acts at the behest of his hegemonic positions in his quest to impart "truth" and "justice" (the tagline of the film is 'Right to Justice') upon those that history seemingly forsook; as a result, the film covertly executes an incursion into the odious heart of pro-establishment propaganda, using the irrefutable plight of the Pandits as an impenetrable cover.
From the first frame, the film abandons all possible attempts at subtlety; every non-Hindu Kashmiri in sight despises the invocation of anything remotely Indian, as we are dropped in the midst of a derelict Kashmir suffocated by unfettered terrorism. To underscore their piety, Hindu characters share names like Brahma (Chakraborty), Vishnu (Srivastava), Mahesh (Belawadi), Hari (Issar), Laxmi (Kulkarni), Sharda (Sumbli) etc. Every wall of the Valley is emblazoned with unimaginative messages against Hindus, and every corner of every road is impregnated with mortal peril. The extent of the intrinsic violence within these conditions is unraveled primarily through the lens of Krishna Pandit (Kumar), a "brainwashed" left-wing student of Jawaharlal Nehru University (JNU), who uncovers the "genocide" of Hindus in Kashmir through his interactions with the old friends of his grandfather Pushkar Nath Pandit (Kher).
Also read: Radhe Shyam review: A poor parody of an outdated corporate music video
If this framing device of the plot sounds familiar under these circumstances, it is because Agnihotri's earlier film Buddha in a Traffic Jam (2016), which was another extended tirade against the purported nefarious and bloodthirsty intentions of "anti-national" communists, employed a nearly identical method. In that film, a similarly revolution-worshipping communism-inspired student comes to unmask the "truth" of an academic establishment that, in Agnihotri's eyes, is teeming with neo-Naxalite insurgents.
This is a gripe of Agnihotri that has only intensified over the years; in The Kashmir Files, Agnihotri uses the widespread controversies around JNU to ventilate as many frustrations about it as he could manage. Joshi, his wife, acts fairly well, but her husband has unfortunately given her the role of a conniving and avowedly wicked Communist professor named Radhika Menon (yes, inspired explicitly by feminist writer and academician Nivedita Menon), depicted as a caricature who strong-arms Krishna into shouting "azaadi" (freedom) for the sake of it and unblinkingly refers to her cabal of fellow terrorist-sympathisers as an "ecosystem".
Nearly every inch of the walls of the university is bedizened with loud portraits of Karl Marx, Vladimir Lenin, or Mao Zedong. Flags of the All India Students' Association (AISA) populate gatherings where slogans like "Burhan Wani zindabad" (Long live Burhan Wani), "Bharat tere tukde honge, inshallah" (By the grace of Allah, India shall disintegrate), and "Afzal hum sharminda hai, tere qaatil zinda hai" (We are ashamed Afzal, for your killers live on) are mechanically and ritualistically chanted in unison (and in broad daylight) by students who defiantly scoff at the slightest mention of Kashmiri Pandits. The film also manages to claim that most voters in elections for JNU's students' union are Kashmiri Muslims, which is egregiously misleading.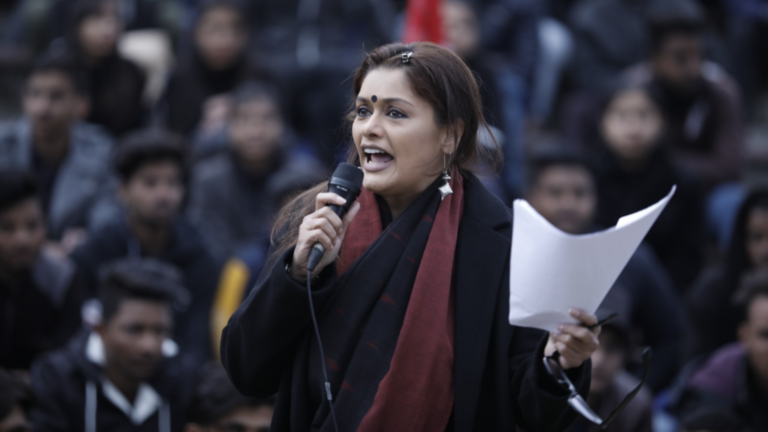 In a similar vein, the film exploits the imagery of a battered and ailing Pushkar desperately pleading with his grandson, who has been led astray and away from the "truth", by giving him a tearful ultimatum, "Vaada kar mujhse, tu kabhi unn 'azaadi'-waalon ke saath khada nahin hoga" (Promise me that you will never actually stand with the 'azaadi' brigade). In one violent sweep, Agnihotri resolutely conflates every occurrence of the utterance of the word "azaadi" and renders it inherently anti-Hindu and anti-India, whether it concerns student activists protesting against an elected government or militants pillaging villages and raping women. Despite the innumerable clarifications regarding "azaadi" being a cry for liberation in India instead of liberation from India, Agnihotri makes Pushkar finish his sentence by warning, "Yeh log Bharat se azaadi chahtein hain" (These people want 'azaadi' from Bharat).
In another instance, Pushkar declares, "Politics ka sirf ek hi ant hai: vinash" (Politics has only one end: destruction); similarly, retired bureaucrat Brahma cautions his friends not to discuss "politics" in front of Krishna. This is not a confession of its own aversion towards a vaguely undefined "politics" as much as it is a wily ploy to capitalise on the unflattering connotations of the word itself, portraying everyone it pits against itself as pleonectic "politicians" who are blinded in their thirst for power. The film, therefore, manufactures tacit consent for the political rhetoric of the incumbent government by exonerating it from this scrutiny.
"Sarkaar unki hai toh kya hua? System toh humaara hai" (Even if they control the government, the system remains ours), Radhika tells Krishna in one scene with a mischievous smirk. This idea is imported from the rampant usage of a government-system distinction in the political language of India's pro-government mass media, where major governmental gaffes or oversights are routinely attributed to the failings of a broken "system" that necessarily extends beyond and predates the Bharatiya Janata Party (BJP)-led union government.
These extremities surface because, I surmise, Agnihotri's realm leaves no space for intricate perspective as an alternative to binary perception; in his India, one is either completely convinced of his (and his government's) narrative, or a murderous agent of historical negationism and treachery working tirelessly to dismantle the country's sovereignty. The uncertainties of falsity and veracity are not mediated by deliberation here; they are separated by existential terror. This panic-mongering motivates the film to repeatedly stake the largest claim in a monopoly on truth, on the other side of which is an incapacitated strawman of its own making.
Had I been an impressionable "apolitical" youngster, let alone an active supporter of the BJP, would I have found the film irretrievably despicable? Absolutely not. On the contrary, the cinematography by Udaysingh Mohite would have made me rapt with intrigue; tinted in dimly lit hues, the camera often makes skillful use of hand-held shots, especially in the exterior shots. Shankh Rajadhyaksha's editing could have decreased its reliance on fade-out transitions that spoil the beats of a scene's suspense. The performances are also mostly praiseworthy, except Chakraborty's uninspired act; Kumar, in particular, arguably delivers his best performance yet. The chilling quietude of two scenes in the film, one involving a young girl relieving herself aboard a moving truck and another continuous shot depicting Pushkar's strained efforts to swallow a biscuit as he listens to a gradually fading enfeebled voice of an old lady singing a song about the homeland, was also undeniably effective.
The film admirably and bluntly exhibits the harrowing physical atrocities faced by the Pandits, in a manner that did sometimes worryingly remind me of Ram Gopal Varma's The Attacks of 26/11 (2013); but, it is also glaringly comfortable with blithe omissions of inconvenient historical chronologies and contexts. After India's victory in the India-Pakistan war of 1971 and its elevation as the dominant military power in the subcontinent, former/first Chief Minister of Jammu and Kashmir Sheikh Abdullah realised that the demand for Kashmir's right to self-determination would not be a prudent policy. In 1975, Abdullah signed an accord with Prime Minister Indira Gandhi that virtually strangulated all calls for Kashmir's long-overdue plebiscite and determined the conditions under which he could become the state's Chief Minister after a gap of 22 years; this accord laid much of the groundwork for greater friction among Kashmiris with the Indian State. By the early 1980s, Abdullah was driven to that conclusion himself, delivering communally charged speeches with clerics in mosques while advocating geographical Islamisation by renaming hundreds of locations with Islam-based names and referring to each Kashmiri Hindu as a "mukhbir" (informant) of the Indian Army.
Also read: The Batman review: A new dawn for the Dark Knight
Abdullah's significant role in inciting the insurgency is erased completely in the film, presumably to preserve the popular misconception of him as a "secular" and "moderate" Muslim. No other Muslim is honoured with that privilege in the film, however; in spite of statistics from Jammu and Kashmir's local administrations that shed light on a greater number of Muslims having been killed by armed forces and attacks by Islamic extremists, the zealots in the film are shown to be focused exclusively on Hindus. Not one Muslim is portrayed as an ally to the Pandits' cause.
Agnihotri also miraculously forgets that during the period of 1989-1990, the BJP-supported Janata Dal-led government had defeated the Indian National Congress (INC) and had been sworn in, with V.P. Singh as the Prime Minister at the time. Barring a few months between 1989 and 1990, BJP politician Jagmohan was the Governor of Jammu and Kashmir from 1984 to 1990; he had dismissed the state's Legislative Assembly twice in this span of time, transferring all executive powers to his own post. The BJP additionally led a coalition government for the Indian Union from 1998 to 2004, and it has been bestowed with a single-party majority government since 2014. Why does the film fail to use its non-linear narrative configurations to ask the more damning questions of whether these non-INC/non-communist/"nationalist" forces have made any concerted efforts for the rehabilitation of Kashmiri Pandits, especially the less affluent members of the community who could not seamlessly relocate to urban regions across the country?
The film composes a compelling composite portrait of various temporally distanced killings, from the murder of B.K. Ganjoo in 1990 to the Nadimarg massacre of 2003, to highlight the unabated woes of the Pandits. However, The Kashmir Files flatly refuses to lend credence to the Gawkadal massacre of 1990, where troops of the Central Reserve Police Force (CRPF) opened fire on more than a hundred protestors who allegedly began hurling stones after being asked to retreat. Or, the Handwara massacre of 1990, where 21 unarmed protestors were killed by the CRPF for blocking a vehicle and protesting the killings at Gawkadal. Neither of these incidents was formally investigated, and no penalty was inflicted on any official involved in the killings. In 1993, when a contingent of the 74th Battalion of the Border Security Force (BSF) fired upon hundreds of protestors in Bijbehara without warning or provocation and officially killed 51 civilians, 13 BSF officers were charged with murder and acquitted within two years of their arrest.
Sanjay Tickoo, president of the Kashmiri Pandit Sangharsh Samiti (KPSS), had opined upon the occasion of the revocation of Article 370 of the Indian Constitution (granting special provisions for the territory of Jammu and Kashmir) that debates surrounding the affair diverge from the issue of the exodus of Kashmiri Hindus. He remarked that inextricably linking the two is an "utterly insensitive way to deal with a highly sensitive and emotive issue". Yet, the first scene of the film during which the audience in my theatre erupted in applause chronicles a visit of then Union Minister for Home Affairs Mufti Mohammad Sayeed to a nearly untended makeshift camp for displaced Hindus; when he enquires about any demands that the residents may have, Pushkar silently raises a placard that reads "Remove Article 370". Without mentioning the unfavourable socio-economic status of the territory after nearly three years of the abrogation of the Article, the film slyly advances the plea for its vitiation as a cause that could not be separated from the struggles of the displaced.
Also read: Love Hostel review: A potent premise that is castrated by botched fixations
I suppose one could be chided for hoping that The Kashmir Files would handle its central issues any differently; after all, Chakraborty is a member of the BJP's National Executive, Kher is a vocal loyalist of the BJP and the husband of a Member of Parliament from the party (Kirron Kher), and Agnihotri is a government-nominated representative of Indian cinema at the Indian Council for Cultural Relations. If not this team of public servants and custodians of culture, who else would indulge in a carefully crafted inflammatory exercise in sycophancy?
Hindu nationalist organisations affiliated to the Rashtriya Swayamsevak Sangh (RSS) have been aggressively campaigning for the film. Prime Minister Narendra Modi has given it his personal seal of approval, decrying attempts of the usual suspects to "discredit" the film. Cabinets, legislators, and police departments of several states governed by the BJP have been asked by their governments to watch the film, after it has been exempted from taxation in many of those states. Meanwhile, films like Rahul Dholakia's Parzania (2007) and Nandita Das' Firaaq (2008) had to fight for theatrical releases and face bans in Gujarat for showcasing events related to the Gujarat riots of 2002.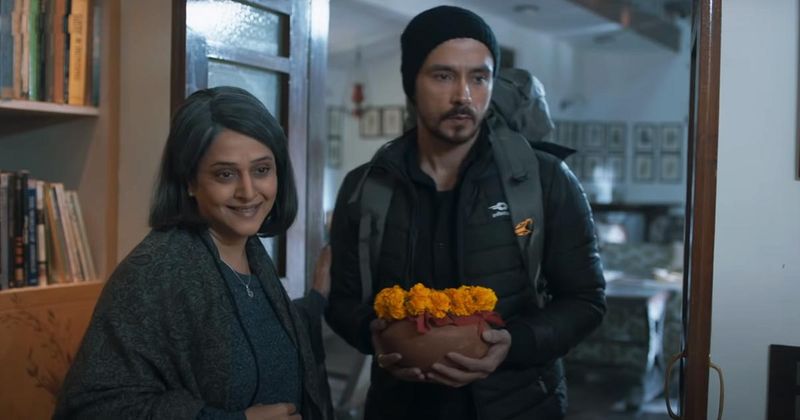 Do not be mistaken; this film is not a mere documentation of a historic exodus. It is an incendiary call for action that balefully elicits the confirmation bias of established bigots and seeks to convert a few more to the fold. It extrapolates the specific tensions of the Kashmir Valley to the rest of India, ultimately insinuating that the country will turn into a theocratic 'Nizaam-e-Mustafa' (administration based on Sharia law) of some sort unless the spread of Islam is halted.
In one scene, a militant is heard screaming, "Kashmir mein rehna hoga toh 'Allah Hu Akbar' kehna hoga" (If you want to live in Kashmir, you must hold Allah as supreme). It is not that Agnihotri is unaware of the correlation between this and the currently nationally popular, "Hindustan mein rehna hoga toh 'Jai Shree Ram' kehna hoga" (If you want to live in Hindustan, you must hail Lord Ram); he is simply too impotent to inscribe it on his deceptive canvas. One must not let the thunderous approbation received by his impotence intimidate one into blasting the former and making amends with the latter.